Market Update: Rates Unchanged; Construction Spending and Job Openings Coming Up this Week
Blog posted On January 03, 2022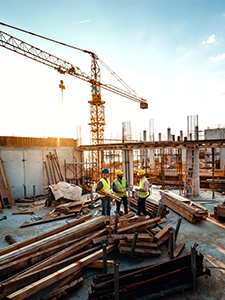 Mortgage rates were relatively unchanged last week. Many traders are monitoring the Omicron variant carefully and waiting to see how it will affect the economy. Kicking off the new year, both the construction spending report and job openings data are scheduled for release.
The U.S. construction spending report tracks total spending on private and public construction projects. In October, construction spending inched up 0.2% to reach a seasonally adjusted annual rate of $1.6 trillion. Year-over-year, construction spending was up 8.6%. A large contributor to October's increase was highway construction, up 2.4% month-over-month. Though residential spending saw a monthly decline, it was 16.4% higher than it was in October 2020. Issues with the supply chain continued to make it hard for home builders throughout the Fall. However, with the recent housing starts and building permit reports showing a home building surge in November, it's hopeful that we could see an increase in construction spending as well.
The Labor Department's Job Openings and Labor Turnover Survey (JOLTS) tracks month to month changes in job openings, hirings, and voluntary quits. Job openings jumped 4.1% in October, bringing the total to a level of 11.03 million – just below the record high. Meanwhile the quits rate fell by 4.7% to a level of 4.16 million. Even with October's decline, the quit rate is still 24% higher than it was the same time last year. The increasing quits rate known as the 'Great Resignation' is a good sign of the economy's strength, as employees who leave their jobs are typically confident that they can find another elsewhere.
Also scheduled for release this week is the ADP nonfarm employment report, the weekly jobless claims survey, consumer credit, and the employment situation including average hourly earnings, average workweek, government payrolls, manufacturing payrolls, nonfarm payrolls, private payrolls, the participation rate, and the unemployment rate.
Starting off the new year, many homeowners have more home equity than ever before. If you would like to learn more about our home equity loans, let us know. We have several options that can help you take advantage of the equity you've earned in your home.
Sources: Bloomberg, CNBC, Mortgage News Daily, U.S Department of Commerce