3 Steps to Take When Making an Offer on a Home
Blog posted On July 08, 2021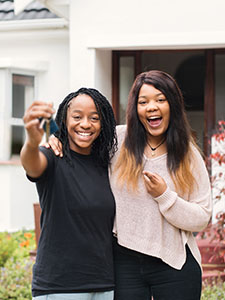 When shopping for a home in a competitive market, you will want to make sure that your offer is as strong as possible. There will likely be several other buyers making offers on the same home, so it's crucial that your offer stands out. The stronger your offer, the more likely it will be accepted by the seller.
Get prequalified for a loan
Before you even look for a home in a busy market, you want to be as prepared as possible. Homes sell fast when the market is hot. So, to compete with other buyers, you will want to show the seller that you are serious about your offer and that you have the financial means to purchase their house. The best way to do this is by getting a letter of preapproval. A letter of preapproval is a document that states how much money your lender is willing to let you borrow. This shows sellers that you can afford their home and that the actual approval process should go smoothly to closing.
To get preapproved, you will need to provide your lender your income, debts, and assets. You will also want to collect documents that show your work history (W-2s), credit history, and residential history. Then your lender will do an extensive credit and financial background check in order to specify the amount for which you're approved.
Adjust your offers to match your location
If you constantly find yourself making offers that don't get selected, then you might need to reevaluate your offer strategies. A good place to start is by looking at other listings in the area and see how much they are selling for. "Are homes selling 10% over the list price?" asks Caitlin Cintas, a REALTOR® for Compass. "Then you should adjust your search parameters accordingly and look at homes that are 10% under your maximum budget. This will allow you to write a strong offer above the list price, beat out the competition, and still stay within your budget."
If you simply look at homes based on their listing price, you likely won't be able to make an offer that competes with other buyers. You want to have a cushion between your maximum budget price and the home's listing price so that you can make more competitive offers.
Consider waiving contingencies
Waiving contingencies is a big plus for sellers. It means less risk for them, and the possibility to close sooner. For buyers, waiving contingencies can be a little bit riskier. For example, if you waive a home inspection, you could end up with a house that needs some serious repairs. One strategy is simply limiting contingencies or shortening their time period. If you still want a home inspection, consider offering a shorter inspection period. This allows you the peace of getting your home inspected and can still offer the seller the comfort of a quicker closing. "When making an offer in such a competitive market, it is important to come in as close as possible to the asking price and to not put many contingencies in the offer," says Kerry Warwick, managing director for the Corcoran Group in Delray Beach, Florida.
Buying a home in a competitive market can be intimidating. With all of the competition, you will want to make sure that your offer is as strong as possible. To determine how much of a loan you could borrow, get started on your preapproval today by clicking the "Get Started" button above.
Sources: ApartmentTherapy