4 VA Loan Facts to Know Before You Apply
Blog posted On May 27, 2021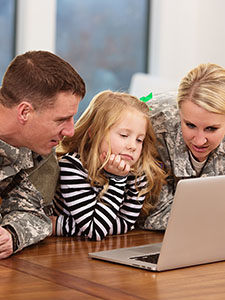 VA Loans are government-sponsored loans backed by the U.S. Department of Veterans Affairs designed to help military members, National Guard members, veterans, and surviving spouses buy a home. If you're thinking of financing your home with a VA Loan, it might be easier than you think.
Here are four VA Loan facts to get you started:
You can start without a Certificate of Eligibility
A Certificate of Eligibility (COE) is your proof that you are eligible to receive a VA Loan. While it will be necessary to present your COE eventually, you may not need it when you're just starting the home loan process. John Bell, deputy director of VA Veterans Benefits Administration, says that eligible VA home buyers can get preapproved without presenting their COE and can verify it later in the loan process. Bell also reminds buyers that you don't need to obtain the document yourself. Most mortgage lenders can get your COE for you. Around 80% of the time, your lender will be able to retrieve it instantly. At most, it can take up to five days. If you wanted to make sure that you're VA Loan eligible, you can request a copy of your COE through the VA eBenefits portal.
You don't need an excellent credit score to get a VA Loan
While having the best credit score certainly can help you get a lower interest rate, a perfect score isn't necessary when applying for a VA Loan. Government loans like VA Loans and FHA Loans typically have more lenient credit requirements than conventional loans. While conventional loans typically require a credit score of around 620, FHA Loans allow for credit scores as low as 580. VA Loans have lenient minimum credit scores as well – but they might vary per lender, so always check with us in order to be sure. In general, VA lenders look at more than just your credit score. They'll look at your overall financial picture including your residual income, debt-to-income ratio, and other influencing factors.
Down payments and mortgage insurance are not required
VA Loans are one of two loans that don't require down payments or mortgage insurance. The other loan is the USDA Loan. Rather than saving for years before you buy your home, you can buy it right away with no money down. With conventional loans, a 0% down payment isn't even an option, but even with their low 3%* down payment options, you would be required to pay mortgage insurance. FHA Loans require mortgage insurance as well. The cost of mortgage insurance can be thousands of dollars over the life of your loan. With VA Loans, mortgage insurance is not required. Though VA Loans do have fees like the VA Funding fee and closing costs, both of these can be waived – under certain circumstances or financed into the loan. If the seller chooses, they can pay the closing costs for you. You can avoid the VA Funding Fee if you're a veteran receiving compensation for a service-related disability or an active-duty service member who has received the Purple Heart. You can see a full list of funding fee exemptions at www.VA.gov.
Choosing a REALTOR® or lender with VA experience can help
VA loans are only available through VA-approved lenders, like us. Once you're ready to apply for preapproval, make sure that you gather:
An official ID (driver's license, passport etc.)

Your Social Security Number

Proof of income (paystubs, W2s, or most recent tax returns)

Asset statements (savings accounts, IRAs, etc.)

Debt statements (car loans, student loans, etc.)
When you're ready to start the house hunt, look for real estate agents with VA experience. If you need help, let us know. Working with an agent that's familiar with VA Loan requirements will mean a smoother home search, better offer, and quicker closing. VA Loans have certain property requirements your home must meet—so it will be easier to search for a home that meets those requirements rather than finding a home and then realizing it isn't VA-qualified.
One of the greatest things we can do for our veterans and military members is help them find and finance the home of their dreams. We know that the process might seem intimidating, but as an experienced VA lender, we know the process well and can help walk you through it step by step.
*Payment example: If you choose a $250,000, 30 year loan at a fixed rate of 2.85% (APR 3.00%), with a $150/month mortgage insurance payment, and an LTV of 97%, you would make 360 payments of $1,204.00 Payment stated does not include taxes and insurance, which will result in a higher payment.
Sources: Money.com