5 Benefits of Mobile Banking
Blog posted On February 17, 2021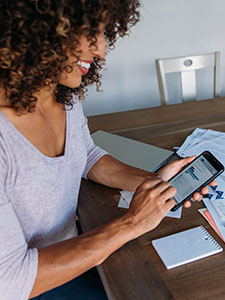 It's hard to imagine getting through the day without using your phone. How would you get directions? How would you stay connected during quarantine? How would order a chicken sandwich from the comfort of your couch? In modern days almost anything is accessible on your phone – even banking. Mobile banking apps have become increasingly popular over the years, and for good reason. If you haven't tried using your bank's mobile app to manage your finances, here are five factors to consider.
Bank access 24/7
Perhaps the most attractive feature of mobile banking is its accessibility. You can make a deposit, make transfers, and manage your banking needs – all from the palm of your hand. "People don't want to have to go into bank branches anymore, especially during these COVID times," says Billie Simmons, co-founder and chief of staff at Daylight. Aside from planned maintenance sessions or unexpected outages, you have access to all your bank's resources all hours of the day.
Money optimization
With increased accessibility, mobile banking apps make it easier to track and optimize your money. Certain banks help customers organize their digital money through mobile platforms while other include automatic savings tools. Another beneficial feature for mobile banking customers at certain banks is the open line of communication between the bank and you. Some banks will message their customers when its algorithms detect money saving opportunities. Others will message customers who are at risk of over drafting their account.
Easy transfers
Need to pay back a friend for covering dinner? Some banks will let you transfer money from your mobile app simply by knowing the recipient's email address or phone number. No more paper checks, stray cash, or IOUs.
Improved security
Though banks specialize in security, using your bank's mobile app could ramp it up even more. For example, you could enroll in multifactor authentication, where you might enter in your password online and then confirm that it is really you through your mobile app. Some banking apps even let you log in by a fingerprint or face scan. "There are a lot of interesting security controls that can come out of actually having the app installed," says Zach Bruhnke, co-founder at HMBradley,
Financial tracking
More banks are offering better tools and more consumer control to track where their financial data is going. Some banks allow their customers to see recurring payments connected to their cards and turn their card on or off – all in the same place. "It's not just the added security … But it's also the importance of transparency so you see where your data is going, how it is being used and control the ability to turn off this thing when you are no longer using the service," says Rob Morgan, vice president of innovation technology at American Bankers Association.
Mobile apps are changing the way we manage our finances – making it easier, faster, and more secure. If you haven't considered trying it, consider talking to your bank or other people you know that have used mobile banking. At the end of the day, we want you to succeed financially, and will do anything we can to help see that happen.
Sources: Bankrate