5 Ways to Decorate Your Front Porch for Fall
Blog posted On September 21, 2022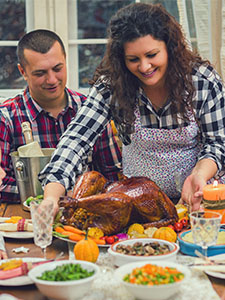 With Fall right around the corner, this is the time that people start pulling out the Fall decorations. For many, this is the time to spruce up the front porch with pumpkins, straw bales, and more fun Fall decor.
Below are five ways to turn your porch into a festive Fall paradise!
Keep it simple – Less is more when decorating your front porch. It keeps it looking clean and not cluttered. You can start off with pumpkins, fall planters, and a fall wreath. Keeping it simple is also more cost-effective.
Stick with a Fall color palette – Selecting decorations that are red, orange, yellow, and brown can bring warm Fall feelings. You can also add pops of color by adding pillows to any outdoor furniture you have on your porch.
Add a Fall-themed mat – This is something small that you can do to jumpstart the Fall season. You can also turn this into a DIY project by buying a plain burlap mat and adding your favorite stencils.
Get creative with planters – Fill your planters with Fall-colored flowers or stack faux pumpkins for a different look.
Line up decor on entryway – You can add Fall garlands, pumpkins, and lanterns. Add these items on your front entry steps to add depth and use various seasonal decorations throughout.
Dreaming of a home that has a front porch that you can decorate? Contact us today to get started with the preapproval process to get you into your dream home this Fall season.
Is a down payment your biggest roadblock in being able to purchase a home? HomeFundIt™ can help you get into a home sooner with the help of friends, family, and anyone in your network contributing to your down payment online. Learn more about HomeFundIt™ and set up your free campaign today!
Sources: HGTV