7 Ways Every Homeowner Can Prepare for the Fall
Blog posted On September 29, 2021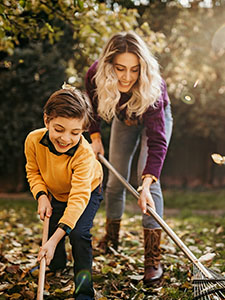 It's hard to believe that Fall is already here. The leaves are changing colors, the weather's getting cooler, and the excitement for the holidays is already building up. Though Fall has already begun, it's still early in the season, and there are still several ways you can prepare your house for what's to come.
Replace your HVAC filter
Your HVAC system is responsible for heating, cooling, and filtering the air that flows through your home. Oftentimes, it will look like a cube-like structure outside of your home. HVAC stands for heating, ventilation, and air conditioning. As the weather starts to cool off, you'll likely want to change your HVAC from air conditioning to heat. To improve your HVAC's airflow and reduce costs, you should clean it out before winter starts. The average American spends more than $600 per year on heating bills. "To keep your costs down, improve airflow, and prevent your furnace from working overtime, replace your HVAC filter with a new one from your local hardware store and feel the difference," says Bailey Carson, home care expert at Angi.
Reseal doors and windows
Something else that could help reduce your heating bill is recaulking your doors and windows. Cracked or broken sealant around your doors and windows can cause warm air to seep out and cool air to seep in. If you don't know that your sealant has cracks, then you might just crank up your heat to make it warmer – causing higher heating bills. It's best to check your home's sealant before it gets too cold because "door and window caulk doesn't cure properly below 50 degrees Fahrenheit," says Mike McCalley, owner of Mr. Handyman of greater Jacksonville, Florida. "If the caulking around your doors and windows is getting old, cracking, pulling away, and looking like it will not last through another Winter — you must get this done before daytime temperatures drop below 50 degrees."
Add weatherstripping to doors and windows
If you have larger gaps around your doors and windows, caulk might not be sufficient, and you might want to add weatherstripping. Weatherstripping your doors and windows is a simple DIY project that can help protect your home from cool drafts. "As winter sets in, we do feel the drafts of cold air that find their way around and under exterior doors to our interiors," explains McCalley. "This is often because the weatherstripping (the two sides, and across the top), and the door sweep (underneath the door) are worn and not doing their job any longer."
Prepare outdoor faucets for the cold
If you live in a colder area of the U.S. you could be at risk for burst pipes during the Winter. Repairing a burst pipe can cost anywhere from $400 - $1,500. To avoid these costs, you should try to winterize any outdoor plumbing before the colder weather arrives. "Protect outdoor faucets from freezing by draining the water and closing off the supply valve that supplies the outdoor spigot," says J.B. Sassano, president of Mr. Handyman.
Check home exterior for areas where heat could escape
Windows and doors aren't the only vulnerable places for air leaks. "Look closely at places where two different materials meet — corners, around chimneys, windows, doors, or along the foundation — and seal gaps with caulking and weatherstripping," says Sassano. "Air leaks can decrease home efficiency by 5 to 30 percent each year, according to the U.S. Department of Energy."
Update home safety features
Sassano also had good advice for overall home safety during the Winter months. "Now is a good time to install smoke and carbon monoxide detectors near bedrooms and around a heat source. If you already have them, check them and replace the batteries if necessary."
Clean your gutters and downspouts
Unfortunately, there's no escaping gutter cleaning during the Fall. When your gutters are clogged with leaves or sticks, it can cause a buildup of rain snow and ice that can seep into your home's foundation or even cause roof damage. "By removing clumps of leaves and other debris with gloved hands and then flushing downspouts with running water from a hose, you can clear blockages before they become problematic," says Carson. If you really don't want to DIY this project, then you can always hire someone to do it for you. The average cost for a gutter cleaning is typically around $160, according to Carson.
Fall can be one of the more challenging seasons for a new homeowner. From leaves and rain, to snow and ice, it can be a lot of maintenance to adjust to. But if you stay on top of it, you shouldn't have any serious problems. Then, you can sit back, relax, and enjoy all the best parts of Fall.
Sources: ApartmentTherapy