8 Questions to Ask Your Contractor Before Renovating
Blog posted On June 17, 2021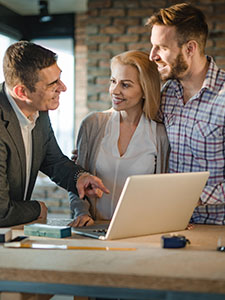 Renovating your home is exciting. But it's also a big undertaking, and you will want to make sure it's done right. To make sure you get the most bang for your buck, here are eight questions to ask potential contractors before you hire them.
Do you have insurance?
Accidents happen, and when they do, you will want to be sure that your contractor has insurance. If they don't, then you probably shouldn't hire them. The most important insurance that they should have is workers compensation. This will cover any injuries they sustain while working on your house. If they don't have this type of insurance, you could end up paying an injured contractor's bills.
Can I talk to previous customers?
If you connected with your contractor through a referral, then you might be able to skip this step. If not, it might be a good idea to connect with some of your contractor's previous customers. This can give you a better idea of the kind of work they do.
Do you have a website?
Checking out your contractor's website is another good way to assess their work. Try to look at comparable pictures – if you're getting your kitchen cabinets replaced, look at their pictures of kitchen remodels. This might even give you ideas or inspiration for your own project.
Can you commit to my timeline?
If you are on a strict deadline, this is an important question to ask. "Often, contractors have multiple projects going at a time, so setting expectations is key for everyone involved in the project," said Paul Bohn, a contractor with PRB Home Solutions in Minneapolis. They should be able to give you a projected completion date.
What are your payment expectations?
It's important that you both know your payment schedule – this will help you and your contractor. In the schedule you should be clear on how much is due and when it is due. You also should probably ask them about their policies in case you are unsatisfied with the job that they have done. "This is something that's mandated by the Department of Labor that should be agreed to in writing, including a start and estimated completion date, a total payment amount, and when payments are due to avoid any hiccups down the road," Bohn said.
Will you provide a detailed description of what you are responsible for providing/ picking up?
Sometimes, your contractor will not do the ordering of materials themselves, If this is the case, ask them to provide you a detailed list of exactly what you need to order and when. Also make sure that they are giving you the standard material pricing, unless you want the higher end material.
How often will I be updated about my project's progress?
You'll want to be updated on your project's progress daily if you are not currently living in the house. If you are in the house, you may want to verbally check in every few days or every week.
What is your daily schedule?
This is especially important if you are living in the house that is being worked on. For safety reasons, and just general preparation, you will want to know when they will be in your home.
Home renovations and remodels tend to take a decent amount of planning. It's easy to get hung up on design but making sure that all of the other details are in order can help make the process flow more smoothly for everyone. A good contractor will be there to help make your process as seamless as possible. If you need any contractor recommendations, let us know.
Source: 21 Oak