Answer These Questions BEFORE You Buy a Home
Blog posted On February 18, 2021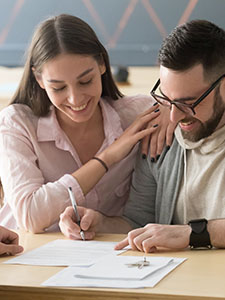 Mortgage rates have been breaking record lows for the past several months – making home buyer demand surge. And while low mortgage rates present a great opportunity for potential home buyers, there are many factors that you should consider, besides your mortgage rate, before you buy a home.
Do I have a stable income?
Having a steady stream of income for at least a couple of years before buying a home is a good way to prepare your finances for the purchase. Not only is it important to be financially secure – be able to make the payments of owning a house – but it's also important to feel financially secure. Owning a home is a big financial undertaking and you want to be sure that you are ready both practically and emotionally. "We are living in the middle of a pandemic, and with COVID-19, you want to make sure you have a stable job. Right now, in the current times, that is huge," says Adriana Buenrostro, a real estate agent with Prosper Real Estate. Lenders will typically want to see that you have had consistent employment and that you will be able to support the financial costs of a mortgage and the ongoing maintenance of the home you buy.
Are my debts under control?
Another factor that lenders consider when assessing your mortgage application is your debt-to-income ratio (DTI). Your DTI helps lenders determine if you will be able to afford a monthly mortgage payment, based on your current debts and monthly income. Debts taken into account generally include student loans, car payments, and credit card debt. DTI is expressed in the form of a percentage, and to calculate your DTI percentage, you need to add up all of your recurring monthly debts, divide that total by your monthly income after taxes, and multiply that quotient by 100. The lower the DTI the better.
Is my credit score good?
Lenders use your credit score to help determine the risk factor of giving you a loan, which can in turn translate into a higher or lower mortgage rate. Some credit card providers will estimate your credit score on your monthly statement or online portal. Another way you can find it would be using a free credit score website. You can check your credit report by the three main credit agencies for free every year, and until April 2021, every week. Before the pandemic, credit in the high 600s or low 700s was considered good, but now that number has shifted into the mid 700s and above. "Everything is a little stricter because of the times we're living in. Having good credit always helps. It'll benefit your rate, your mortgage insurance, and it'll give you more buying power," says Buenrostro.
Do I have sufficient savings?
One way of checking to see if you have sufficient savings to buy a home is making sure you have enough for the down payment and closing costs. Depending on the loan, your down payment can be as low as 3%*. You can also use the down payment gifting platform, HomeFundIt™, to help pay for part (or all) of your down payment. Closing costs typically add up to about 2% to 5% of your home's purchase price. In addition to having enough money for your down payment and closing costs, lenders also like to see that you have enough money to cover for future mortgage payments (around 6 months' worth) and emergency expenses.
Am I ready to settle down?
Unless you're purchasing your home as an investment property or vacation home, make sure that you are ready for the commitment of living in one place for a period of time. One factor to consider is your career – will you be able to stay local or will your job be moving you around in the near future? Selling your home too soon after buying could result in a loss, depending on the market.
Taking advantage of the currently low mortgage rates could save you thousands of dollars in interest over the life of your loan. However, this should not be the only factor you consider when buying a home. If you would like to learn more about different ways to prepare to buy a home, let us know – we would be happy to help you get started. If you're ready to dive in, get started on your prequalification at our website and set up your HomeFundIt account to start saving – making you one step closer to buying your dream home!
*Payment example: If you choose a $225,000, 30 year loan at a fixed rate of 4.75% (APR 4.900%) with a loan-to-value of 80%, homeowners insurance of $900/yr and property taxes of $2,700/yr, you would make 360 payments of $1,494.14
Sources: Next Advisor