Biden's Impact on Housing in His First 100 Days
Blog posted On May 11, 2021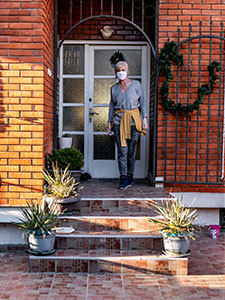 It's hard to believe that we're already 100 days into President Biden's term. A couple of weeks ago, he gave his first address to Congress with updates on his progress so far and plans to come. Here are some of the ways he has impacted the housing industry over the past 100 days.
He provided swift COVID-19 relief
President Biden entered office at a critical point in the COVID-19 pandemic. Hundreds of thousands of people were getting sick, millions were out of work, and millions more were struggling to make monthly payments. Since he took office, initial jobless claims have dropped below 600,000 for the first time in over a year – and have stayed there for several weeks. In comparison, initial jobless claims were surpassing 4.2 million last April during the early days of the pandemic. Roughly 250 million American people have gotten vaccinated against COVID-19 and the number of new cases in has decreased by over 80% from January's high. As for monthly payments, Biden has extended the foreclosure and eviction moratorium twice and distributed $27 billion in emergency housing relief. The eviction moratorium is set to expire on June 30th.
He has turned the first-time home buyer tax credit into a bill
A recurring promise of Biden's campaign was the first-time home buyer tax credit. Now, nine months later, that idea has become a bill and is being discussed by the House of Representatives. The new legislation, titled the First-Time Homebuyer Act would provide buyers a credit of up to 10% of their purchase, or $15,000. To be eligible, you must meet certain income and purchase price limits, and meet the 'first-time home buyer' requirement. To be classified as a first-time home buyer you must not have owned a home in the past three years. Additionally, your income can't exceed 160% of the area median income and your purchase price has to be less that 110% of the area median purchase price. You can claim the credit on a primary residence purchased after December 31, 2020.
He announced the American Families Plan
During his address to Congress, President Biden revealed plans for a $1.8 trillion American Families Plan. The primary focus of the plan is education, childcare, and paid family leave. Another part of the plan is eliminating 1031 exchanges where the gains are greater than $500,000. A 1031 exchange gives real estate investors a tax break by using the proceeds from a sold property toward a new one. By eliminating this break, investors might hold on to their properties longer than before – potentially causing a decrease in supply and demand.
He signed the American Rescue Plan
In March, President Biden signed the American Rescue Plan, or Infrastructure Plan, to help boost affordable housing and other parts of the economy. Some of the $2 trillion in the plan would be used for the construction of 500,000 homes. These homes will be designed for more accessible homeownership – specifically among low to moderate income buyers. Another $40 billion will be allocated for public housing.
After his first 100 days, President Biden has made significant strides in rebuilding the economy. He has taken action to help home buying become more affordable and homeowning more accessible. While increased accessibility is a positive stride, it will be important that the supply of homes continues to increase in order to meet climbing home buyer demand.
Sources: Department of Labor, HousingWire, NY Times