Debunking Mortgage Myths in the Modern Market
Blog posted On July 05, 2022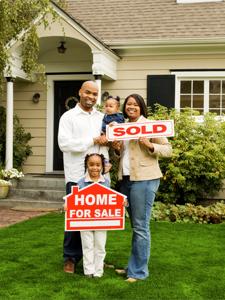 It's no longer 2020. Mortgage rates are no longer near record lows and home prices are still high. But that doesn't mean you shouldn't invest in a home. In fact, there are several encouraging signs in the modern market. Unfortunately, there are also several myths. Here are five modern mortgage myths, debunked.
You Shouldn't Buy a Home When Interest Rates Are Rising
Interest rates are undoubtably higher than they were two years ago. But that doesn't mean that it's a bad time to buy a home. In fact, there are actually more homes on the market now than there have been over the past two years. "The number of active home listings jumped at the fastest annual past on record in June," said CNBC's Diana Olick when referring to data from Realtor.com. In the past year alone, the number of active home listings has jumped by 19%. This not only gives home buyers more options, but also drives down buyer competition – which will eventually force sellers to lower their listing price. Less competition, more options, and lower prices are all great signs for potential home buyers.
You Need Excellent Credit to Qualify for a Mortgage
Oftentimes, higher credit scores can help you get a better mortgage rate. However, you don't need a perfect credit score to qualify for a mortgage. There are several loan options that offer more lenient credit requirements such as FHA Loans. An FHA Loan is a great mortgage option for home buyers with lower credit scores. FHA Loans offer low down payment options as well.
You Can't Apply for a Mortgage with Student Loans
You won't automatically get denied a mortgage just because you have student loans. But your student loans do contribute to your debt-to-income ratio or DTI, which affects your eligibility for different mortgage loans. To calculate your DTI, divide your total monthly debt by your gross monthly income. The lower your DTI, the better.
Your Down Payment Must Be 20% or Higher
The 20% down payment is one of the biggest modern home buying myths. Though a 20% down payment can prevent you from paying mortgage insurance, it's not a requirement to buy a home. In fact, the average down payment for most home buyers is 12%. For first-time home buyers, the average down payment is 7%. Plus, there are several low-down payment mortgage options that can help you purchase a home with a very small down payment.
You Should Never Get an Adjustable-Rate Mortgage (ARM)
The number of buyers who opt for ARMs has been virtually nonexistent over the past two years. This is because mortgage rates have at record lows, leading many home buyers to opt for a fixed-rate mortgage. A fixed-rate mortgage ensures that a home buyers' mortgage rates will remain the same for the duration of their loan term. An adjustable-rate mortgage, on the other hand, will have a fixed rate for a certain number of years and then will vary depending on the market rate. Recently, the number of home buyers opting for an ARM has ticked up – largely due to the rising mortgage rates. ARMs often start at lower mortgage rates than a fixed-rate mortgage. This can be especially beneficial for buyers looking to stay in their home short-term.
The modern mortgage market is very different from the market two years ago. Many aspects have changed. To learn more about the current market trends, you can visit our blog page or contact us directly!