Don't Use Your 401(k) to Pay Off Debt — Do These 7 Things Instead
Blog posted On September 06, 2022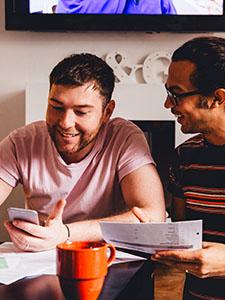 It may be tempting to tap into your 401(k) to pay off higher interest debt like credit cards, auto loans, and student loans. But homeowners have a better option. Refinancing your mortgage can be a great opportunity to reset your finances without sacrificing your retirement savings.
Who can benefit from a mortgage refinance?
According to Black Knight, around 700,000 homeowners can save an average of $310 per month and reduce their current mortgage rate by at least 0.75%. Additionally, homeowners can take advantage of the equity they've built in their home with a cash-out refinance.
Advantages of making a cash-out refinance
Taking cash out from your home equity can help you:
Cover unplanned expenses

Pay off higher-interest debt

Pay for home improvements
Unlike a home equity line of credit (HELOC), a cash-out refinance is a one-time draw. After that, your mortgage payments return to a predictable fixed rate.
If you're considering taking cash-out with a refinance, it's important that you start preparing as soon as possible.
7 steps to prepare for a mortgage refinance
Set your refinancing goal
Do you want a cash-out refinance? Do you just want to lower your interest rate or drop mortgage insurance? Are you looking to switch loan types completely? Getting your goals in order before applying can help speed up the process.
Check your home equity amount
Normally, you will need to keep at least 20% equity in your home post-cash-out. To check your equity, contact us.
Check your credit score
Credit scores and credit history are one of the most important factors lenders evaluate to determine your mortgage rate and other key loan factors.
See if refinancing will pay off
Visit our mortgage refinance calculator to walk through different scenarios, evaluate savings, etc.
Get your paperwork in order
As you may remember from your first mortgage application, there is a lot of paperwork involved. We have several resources available with document checklists for your convenience.
Contact us to get started
Once you have a solid goal, connect with us to review your plan and lock in your rate!
Lock in your mortgage rate!
Sources: Money