Home Prices and Home Buyer Competition are Cooling Off
Blog posted On September 21, 2021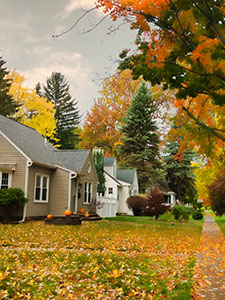 If you've been sitting on the home buying sidelines, now might be your chance to jump in. According to real estate brokerage Redfin, both median home prices and pending home sales were down in early September – signaling a potential opportunity for some buyers to save money and still make the winning offer.
Why the housing market has been red-hot
Home prices have been steadily rising for the past year and a half due to limited home inventory and exceedingly high demand. Buyers have been eager to take advantage of historically low mortgage rates and hopeful to fulfill their desire for more space at home. But the supply of homes has been struggling to keep up. At the beginning of the pandemic, many home production efforts were slowed due to COVID restrictions. That, combined with increased material prices and limited numbers of skilled laborers, has put a strain on the homebuilding industry. In July, the supply of homes was down 12% year-over-year according to the National Association of REALTORS® (NAR). Consequently, home prices have been on the rise. In June, the 20-city Case-Shiller home price index reported a record 19.1% annual increase. On top of higher prices, home buyers have also been facing stiff competition. Earlier this year, the NAR reported that sellers were receiving an average of four offers per home. From a buyer's perspective, this likely means you'll have to make a higher offer and potentially skip important steps like home inspections. In most cases, the winning offers have been tens of thousands (or even hundreds of thousands) of dollars over asking price.
Where the market's headed…
Luckily, it seems that this trend is about to change. Though the market will likely remain unseasonably hot this fall, it appears to be cooling off in certain ways that could benefit home buyers.
One of the ways that housing experts predict the future of the market is through pending home sales. Pending home sales track changes in the number of homes that are under contract but not yet closed. They can be used to predict the number of future closed sales and what to expect in terms of home buyer competition. Typically, the higher the pending sales level, the higher the level of buyer competition. In May 2021, A recent report by Redfin showed that pending home sales were up 6% annually as of September 5th. Though it's still an increase, it's much lower than the record high of 13% in May – suggesting a softening in home buyer competition.
Another positive stat for home buyers is the decrease in sellers that accepted an offer within two weeks of listing. This number dropped nine percentage points from its peak in March. Plus, the number of homes that sold above asking price dropped from 55% to 50% in early July 2021. So not only are buyers seeing lower levels of competition, they are seeing lower offer prices as well. According to Redfin, the median asking price of newly listed homes is now $353,500 – down 2% from the all-time high set in June 2021. The Redfin report also found that on average nearly 5% of listed homes had a price drop during the week ending 9/5 – which is the largest number of weekly price drops since 2019.
…and how it could help buyers
With fewer home buyers on the market, you have a greater likelihood of finding the home you want. It also allows for more flexibility with your contingencies and offer price. If you're making an uncontested offer, then you likely have more freedom to go through all of the necessary contingencies like home inspections and appraisals. You also can probably make an offer closer to the listing price if you're uncontested.
To make the most of the expected market conditions coming up, get preapproved today by clicking "Get Started" above.
Sources: CNBC, Housingwire, NAR