Housing Bill Proposed to Help Teachers and First Responders
Blog posted On June 08, 2021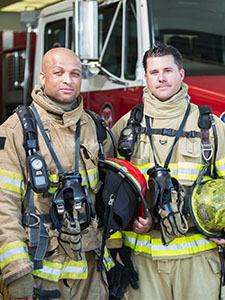 On May 13th, U.S. Representatives introduced a new bill aimed to help first responders and teachers buy homes. The bill, called Homes for Every Local Protector Educator and Responder Act, will be similar to VA Loans in assistance and structure.
How does the bill help?
If passed, the Every Local Protector Educator and Responder Act will help teachers and first responders with 100% financing on home loans. The only other loans that offer 100% are VA Loans and USDA Loans. Making a 0% down payment is extremely helpful for home buyers – especially if you're trying buy in a high-priced market. Right now, home prices are at some of their highest levels ever recorded. Two weeks ago, the National Association of REALTORS® (NAR) reported that the median national sales price was $341,600 in April – the highest recorded since the NAR began tracking home price data in 1999. If you're purchasing a house at that price and decide to make a 20%* down payment, you would be putting down $68,320. Even if you decide to use one of our low down payment options for our conventional loans, the lowest down payment you could make would be 3%, or $10,248. Then you would have to pay monthly insurance premiums of hundreds of dollars per month. With the proposed bill, you would just pay an upfront premium of 3.6% and no monthly insurance premiums.
How does the bill work?
The loans in the program would be administered by the Federal Housing Administration and meet all Federal Housing Administration loan limits. The rest of the program would be modeled closely after the VA Loan. Samuel Royer, national director of Heroes First Home Loans at Churchill Mortgage, initiated the idea to acknowledge first-responders' sacrifices and ease their access to homeownership. "I believe that American first-responders deserve the same access to affordable housing benefits that I have as a Veteran," Royer said.
Who is eligible to receive assistance?
Eligible borrowers include police officers, prison guards, firefighters, paramedics, emergency medical technicians and teachers. To qualify for the assistance, borrowers must be in good standing at their job, have no disciplinary action, and worked in their field for at least four years. Additionally, they must show that they intend to keep this job for at least another year.
Potential issues
The Homes for Every Local Protector Educator and Responder Act is great in theory. It has a similar idea to the recent bills recently proposed including the Downpayment Toward Equity Act of 2021 and the First-Time Homebuyer Act. All of the acts are intended to help widen the home buyer pool and increase access to homeownership. However, even with the assistance, home buyers might have a hard time finding a home in the current market. The larger issue right now is the lack of supply. Demand is already red hot, pushing home prices higher. Should these bills pass, they will only drive up the demand (and therefore the home prices) more.
Home sellers are already flooded with offers on their homes right now. Many are getting offers that waive contingencies, pay in cash, and are thousands of dollars over the asking price. Typically, in a housing environment like this, more complicated loan assistance can have a hard time competing with these other types of offers. However, if you are looking for down payment assistance options, we have plenty that can help you pave your way into homeownership.
Sources: HousingWire
*Payment example: If you choose a $250,000, 30 year loan at a fixed rate of 2.5% (APR 2.75%), with a loan-to-value of 80%, you would make 360 payments of $1,021.00. Payment stated does not include taxes and insurance, which will result in a higher payment