How to Budget for Your First Home Purchase
Blog posted On October 21, 2021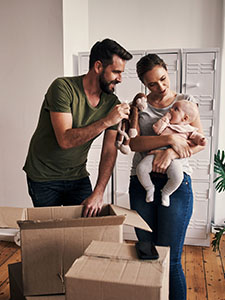 A lot goes into buying your first home. At first, it can be an intimidating process, but with the right guidance it can go by smoothly. If you're considering buying your first home, there are a few things you should keep in mind when making your home budget.
1. Save for your down payment
When you buy a home, you pay a lump sum of money upfront – known as the down payment. The amount you put down is generally up to you, depending on your credit score and other qualifying factors. Many people strive to put down 20%* of a home's cost because it can help you avoid mortgage insurance and qualify for a better mortgage rate. Private mortgage insurance, or PMI, typically ranges from $30-$70 per month for every $100,000 borrowed. So if you're trying to buy a $350,000 home, you could be paying up to $245 per month in mortgage insurance.
However, as home prices continue to rise, down payments of 20%* become harder to reach. A 20%* down payment on a $350,000 home would equal to $70,000 paid upfront. That's more than a year's worth of pay for most Americans. So it's no surprise that the majority of first-time home buyers put down less than 20% *. According to the National Association of REALTORS® (NAR), the typical first-time home buyer makes a down payment of 7% *.
Either way, a down payment is still going to be a hefty cost. It's important to start saving for your down payment early in the homebuying process. Some might start saving for a down payment years before they are planning to buy a house. However, if you're looking to buy a home right away, there are several options that can accelerate your down payment savings process. We offer many loan programs that have lower down payment options including:
FHA Loan (as low as 3.5%** down)

Fannie Mae HomeReady (as low as 3%* down)

Freddie Mac HomePossible (as low as 3%* down)

VA Loan (0% down)

USDA Loan (0% down)
We also have our HomeFundIt™ down payment gifting platform that allows anyone to contribute to your down payment goal easily and online.
2. Calculate your current monthly payments
After you are preapproved, you should know how much money you could borrow to buy a home. However, just because you can borrow a certain amount doesn't necessarily mean you should. When determining a budget to buy a home, you should follow certain steps.
First, you should look at your monthly expenses outside of rent. Are you paying off a car? What is your phone bill? Do you pay for childcare?

Once you've figured out how much you need to spend on bills each month, you can figure out how much you want to spend on a home.

When making a home buying budget, don't forget to include expenses like property taxes, maintenance costs, and interest payments.

Lastly, you most likely won't want to look for homes that are on the very edge of your budget. You'll want to look for homes that are slightly less than your max budget amount so that you have room to make it more competitive offer over asking price.
3. Still have a home inspection
In a competitive market, you might be tempted to waive certain contingencies like your home inspection. Though this strategy can make your offer more appealing to the seller, it can also cost you much more in the long run. "That is the biggest budget buster to me," said Jacqueline Cooper, founder, president and CEO of Financial Education Associates. "There are things we don't notice and we don't have the experience to determine if this is an [okay] thing or not." For example, you might notice the more obvious issues like cracks in the foundation, leaks or mold, and ground sloping towards the house. But you might not notice less obvious issues like asbestos, lead paint, electrical problems, or HVAC issues.
If some issues are left unnoticed and untreated, it can lead to serious health risks – not to mention serious dents in your wallet. Over 50,000 home fires are started by electrical problems each year, and asbestos has been known to cause serious health issues like lung damage and cancer. Aside from the health risks, it could cost you around $14,000 dollars in repairs to fix everything that a home inspection missed. If these issues were caught in a home inspection, then it would have been the seller's responsibility to finance the repairs.
4. Don't forget closing costs
Last but not least, you need to account for closing costs in your budget. Closing costs are the other upfront fees in addition to your down payment. Common closing costs might include:
Loan origination fee

Appraisal fee

Credit report fee

Tax service fee

Closing escrow fee

Mortgage recording fee

Daily interest fees

Property taxes
In total, your closing costs will likely be 3% to 6% of your home's purchase price. Like your down payment, this can still be thousands of dollars to pay upfront. One option that could help you pay for up to $2,500 of your closing costs or down payment is the Freddie Mac BorrowSmartSM Program.
Preparing a home buyingbudget for your first time can be intimidating, but with the right help by your side, it can be a smooth and simple process. If you would like help or guidance on your home buying budget, let us know.
*Payment example: If you bought a $350,000 home and put 20% down, for a loan amount of $270,000, with a 30 year loan at a fixed rate of 3.3% (APR 3.5%), you would make 360 payments of $1,257.00. Payment stated does not include taxes and insurance, which will result in a higher payment.
**FHA Payment example: If you bought a $250,000 home with a 3.5% down payment, for a loan amount of $241,250, with a 30 year loan at a fixed rate of 3.75% (3.94 APR) you would make 360 monthly payments of $1,143.00. Payment stated does not include taxes and insurance, which will result in a higher payment.
Sources: CNBC, CNN, Homelight, The Mortgage Reports