How to Determine if You're Financially Ready to Buy a Home
Blog posted On February 24, 2021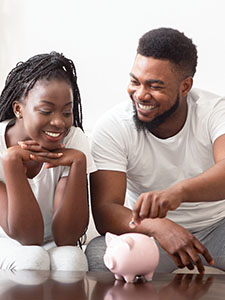 When many home buyers are preparing to purchase a home, they can picture it all – the perfect house, the perfect family, and the perfect renovations they're already planning in their heads. While buying a house is definitely an exciting investment, it's important that your financial preparedness matches (or surpasses) your emotional preparedness to buy as well. In order to to help determine if you're financially ready to buy a home, here are 5 questions to answer.
1. Do you have a stable income?
Having a stable income is not only important for your loan application, but for your personal comfort as well. Buying a home can be a smart financial investment; but at the same time, it will likely be the largest debt you take on as well. Making sure that you're capable and comfortable with paying your mortgage is crucial to the success of your investment.
To show lenders that you are capable of paying off your home loan, you will typically need to demonstrate a history of stable employment and show (to the best of your abilities) that you will have a secure income for the next few years. If you're self-employed, and do not get traditional W2s, this can be more difficult. Just make sure that you have as much income documentation as possible – bank statements, tax returns etc. Even if you are not self-employed, lenders normally like to see around two years of tax returns or pay stubs as proof of income.
2. Are you ready to settle down in one area?
A home is a long-term commitment. If you don't plan on staying in the same area and aren't considering renting out your home, buying a home might not be the right decision. When you're running the numbers, remember to include closing costs, renting costs, and your real estate agent's commission, should you choose to use one when selling your home. Typically, it will take five to seven years to breakeven after buying a home. If you expect to relocate before that time has passed, it may not be the right move for you.
3. Can you manage debt well?
When applying for a mortgage, lenders will review your credit report so that they can evaluate how well you handle your existing debt. Generally, those who have a higher credit score and better history of managing their debt will qualify for more favorable terms and rates. In addition to your credit score, lenders will also look at your debt-to-income ratio (DTI). Your DTI compares your gross monthly income to your total monthly debts – the lower the better.
To improve your credit score, be sure that you are making your monthly payments on time and only spending what you can afford. For a better DTI, avoid taking on more debt, and try to put more money towards your debts before applying for a mortgage.
5. Do you have an emergency fund?
Emergency funds are not just beneficial for homeowners. Whether you own a home or not, most financial experts recommend that you have three to six months of survivable money in your emergency fund for unexpected expenses like medical bills or simply the cost of living, if you are in between jobs. However, if you are purchasing a home, you will likely want to have more money in your emergency fund.
Unexpected expenses of a homeowner can include more than just medical bills. Leaks, upgrades, and other maintenance requirements will likely pop up – especially if you are buying an older home. According to HomeAdvisor, homeowners spent an average of $3,192 on home maintenance and another $1,640 on emergency repairs. So, it's better to be prepared. Realtor.com recommends that homeowners have 1% - 4% of their home's value set aside for potential repairs.
5. Can you afford a down payment?
The 20%* down payment requirement may not be necessary anymore, but even a 10% down payment can be costly. Plus home buyers who put less than 20% down are required to pay Private Mortgage Insurance, or PMI.
One tool that home buyers can use to get a larger down payment is the down payment gifting platform, HomeFundIt™. Though typical down payment gifts can be a hassle with paperwork and other restrictions, HomeFundIt makes the process easy and compliant. Contributions made on HomeFundIt can be from by anyone with a credit or debit card and require no offline paperwork. Plus, once you create your campaign, you can share it across your social media platforms to encourage contributions. To get started on your campaign, visit www.homefundit.com/.
Before committing to the long-term investment of a home, be sure to consult your financial advisor. If you have any other questions about potential mortgage situations or the HomeFundIt platform, let us know!
*Conventional Payment example: If you choose a $250,000, 30 year loan at a fixed rate of 3.3% (APR 3.5%), with a loan-to-value of 80%, you would make 360 payments of $1,122.61. Payment stated does not include taxes and insurance, which will result in a higher payment.