How to Spend Your Stimulus Money Wisely
Blog posted On March 24, 2021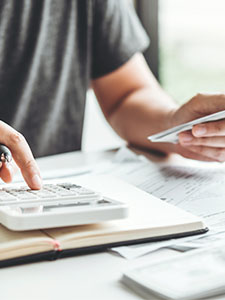 Last week, the third round of stimulus checks were sent to qualifying citizens. The checks – equaling up to $1,400 per person – were quickly processed by the IRS and U.S. Treasury in an effort to stimulate the economy amidst the continued coronavirus pandemic. If you were one of the stimulus check recipients, it may be tempting to splurge on that new PlayStation 5 or the necklace that you've wanted. However, here are five smarter ways you can spend your stimulus money.
Strategize before spending
As with any large amount of money, it's smart to make a plan before spending. Don't know where to start? First, make sure all of your necessities are covered – food, rent, bills, etc. If this cluster of expenses is taken care of, you might consider saving some money for the weeks to come and next month's bills. Lastly, make sure your cash levels in your emergency fund or other liquid accounts are substantial. If you don't have an emergency fund, this could be your opportunity to start one.
Start an emergency savings account
Whether you're starting an account from scratch or adding to an existing fund, putting some money towards emergency savings is never a bad idea. "The first priority is to pad your emergency savings," says Greg McBride, CFA, Bankrate chief financial analyst. "Even if the money isn't needed right away, having it available if needed later is a financial buffer and provides some peace of mind."
Catch up on past due bills
By reaching out to companies or banks for past due bills you might be able to continue making the minimum payment to stay current and avoid negative effects on your credit score. Also, remember to prioritize your payments on food, utilities, and shelter when your income is limited.
Make a new budget
Having a budget is the best way to plan and track where your money is going. It can also help guide you to make better financial decisions or cutting certain subscriptions or services. If you already have one you may want to think about making a new one, at least for the time being. The world is a little bit different than it was one year ago – physically, mentally, and financially.
Pay off high interest debt
In a Bankrate survey conducted before the pandemic, 60% of U.S. adults reported that they would cover the cost of a car repair or emergency room visit using a credit card as opposed to dipping into their savings. This means that they are likely to have credit card bills that are accruing. Paying off these bills as quickly as possible will help you be in a better position financially.
It may be tempting to use your stimulus money on a nice takeout dinner, a special gift, or another low return but highly enjoyable purchase. However, times are uncertain right now and it is better to be prepared and be in the best financial situation possible. Then, you can actually go to that nice restaurant when everything is open again and the world has recovered from the coronavirus pandemic.
Sources: Bankrate