Market Forecast: Case-Shiller Home Price Index, FOMC Meeting, and Pending Home Sales
Blog posted On April 26, 2021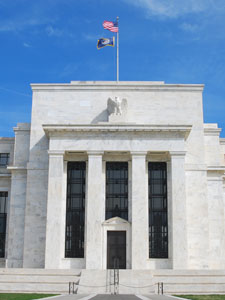 Last week, mortgage rates trended downward to reach some of the lowest levels in almost two months. The bond market showed renewed signs of strength and most mortgage lenders adjusted their pricing accordingly. The Federal Open Market Committee (FOMC) will meet on Tuesday and Wednesday of this week to assess the benchmark interest rate and determine if it needs to be adjusted. Right now, the benchmark rate sits near zero. Federal Reserve Chairman Jerome Powell will give a press conference on Wednesday afternoon. Prior to the decision, the Case-Shiller home price index will be released on Tuesday. The pending home sales index comes out on Thursday.
The S&P Case-Shiller home price index tracks changes in the value of homes involved in two or more sales transactions across 20 major metropolitan areas throughout the country. Though the data lags by a month, it is still used to gauge home price appreciation trends. In January, the Case-Shiller home price index jumped 0.9% month-over-month. Year-over-year, prices shot up 11.1%. Phoenix had the highest annual rate of appreciation, up 15.8%, followed by Seattle and San Diego.
The FOMC sets the federal funds rate. The federal funds rate will influence mortgage rates but not set them exactly. When the Fed raises rates, mortgage rates can go up. When the Fed lowers rates, mortgage rates can go down. In March, the Fed voted to leave interest rates unchanged. As long as the Fed continues to keep the benchmark rate near zero, mortgage rates should stay relatively low as well. At the last meeting, the Fed adjusted its GDP and inflation predictions to increases of 6.5% and over 2%, respectively. Chairman Powell predicts that inflation will taper out after its initial rise.
The pending home sales index tracks changes in the number of homes that are under contract but not yet closed. In February, pending home sales fell 10.6% month-over-month. Year-over-year, sales were only down 0.5%. Part of the decline was attributed to February's severe winter weather. However, low inventory has also inhibited pending sales.
There are several ways you can speed up the closing process if your sale is pending. First, make sure you respond to your lender in a timely manner. Also, prepare any documents that they might need, such as proof of income (pay stubs, tax returns, W-2 statements etc.), proof of assets (bank statements), residential history (previous two years' worth), your credit history, and general information like your Social Security Number and date of birth. For a complete list of all the documentation you might need, feel free to contact us.
Sources: CNBC, MarketWatch, MarketWatch, MarketWatch, Mortgage News Daily, Mortgage News Daily,