Market Update: Rates Drop, Construction Spending, and the Employment Situation
Blog posted On May 31, 2021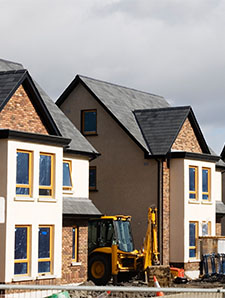 In the beginning of last week, mortgage rates trended downward to some of the lowest levels since the beginning of May. Towards the end of the week, they inched up due to a weakened bond market, but continue to remain historically low. According to Mortgage News Daily, these upward rate "moves aren't extreme in the bigger picture." Some claim that Biden's plan to propose a $6 trillion budget had an effect on the market. Another cause could be the core PCE index, which showed an increase of 3.1% that surged past the Federal Reserve's 2% goal.
This week's important market-moving reports include the construction spending report, scheduled for release on Tuesday, and the employment situation, scheduled for release on Friday.
The U.S. construction spending report tracks total spending on private and public construction projects. In March, construction spending inched up 0.2% to a seasonally adjusted annual rate of $1.51 million. Private construction rose 0.7% while public construction dropped 1.5%. Residential spending increased 1.7%. With the added challenge of increasing lumber prices, construction spending will likely rise in April as well in order to meet the high home buying demand.
The employment situation is a collection of labor-market related data including nonfarm payrolls, private payrolls, manufacturing payrolls, the unemployment rate, participation rate, average hourly earnings, and the average workweek released monthly. In April, average hourly earnings increased 0.7% and the average hourly workweek climbed to 35 hours – both slightly higher than expected. The participation rate remained relatively unchanged at 61.7%. The unemployment rate inched up to 6.1%. Nonfarm payrolls rose by 266,000 and private payrolls increased by 218,000. They were expected to rise at a pace of 978,000 and 839,000 (according to Bloomberg's economists). Government payrolls increased by 48,000 – slower than their March increase of 62,000. Manufacturing payrolls were the only jobs that saw a decrease in April – down 18,000 compared to March. May's employment situation will be a good indicator of where the economy is in its pandemic recovery progress. A stronger economy generally leads to higher rates.
Also scheduled for release on Wednesday is the weekly mortgage application survey, followed by the ADP employment report and the weekly jobless claims survey on Thursday morning.
Right now, rates are still trending in a historically low range but as the economy continues gaining strength, rates will likely rise as well. One of the best ways to take advantage of rates while they're low is by refinancing your mortgage. Refinancing when rates are low can help you lower your interest rate, reduce your monthly mortgage payment, and save thousands over the life of your loan.
Sources: Bloomberg, MarketWatch, Mortgage News Daily, Mortgage News Daily