Market Update: Rates Fall, NAHB Housing Market Index, Housing Starts and Building Permits, and Existing Home Sales Coming Up This Week
Blog posted On October 18, 2021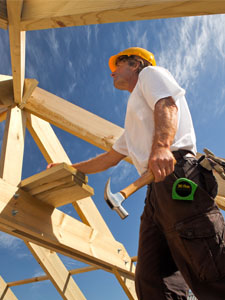 Last week, mortgage rates trended downward after a few strong days in the bond market. When bonds – specifically mortgage-backed securities (MBS) – show more strength, mortgage rates tend to fall. The Federal Open Market Committee (FOMC) also released its minutes from the September meeting, revealing a unanimous opinion that it was time to begin tapering assets.
This week, there are several important housing reports scheduled for release. Today, the National Association of Home Builders (NAHB) will be releasing their housing market sentiment index. Tomorrow, housing starts and building permits are scheduled for release, followed by existing home sales on Thursday.
The NAHB housing market sentiment index is based on a survey of home builders' perceptions on current sales activity, sales expectations for the next six months, and buyer foot traffic. Any reading above 50 is considered positive. In September, the NAHB index saw its first increase in three months – rising to a level of 76. Higher lumber prices were causing home builder sentiment to waver for several months earlier in the year. As lumber prices have cooled, sentiment has begun to improve. Home buyer demand is keeping home builder sentiment high, but affordability will be the biggest concern in the coming months
Housing starts track ground broken on residential projects and building permits track permits issued. Housing starts increased 3.9% in August, representing a seasonally adjusted annual rate of 1.62 million, while year-over-year, housing starts rose by over 17%. Building permits increased as well. In August, building permits rose 6% to a seasonally adjusted annual rate of 1.73 million. The main increases were in multifamily housing starts, up 22% month-over-month. Single-family housing starts decreased 3%. There was also 20% growth in building permits in August for multifamily homes, and only a 0.6% increase in single-family building permits. The shift from single-family to multifamily construction signals an increased focus on the more expensive projects. With decreased affordability and construction costs, the construction industry is looking to see a larger return on investment.
Existing home sales or resales track the sales of previously constructed homes and make up approximately 90% of residential real estate transactions. Existing home sales fell 2% in August, down to a seasonally adjusted rate of 5.88 million units. "The housing sector is settling down," said Lawrence Yun, chief economist at the National Association of REALTORS® (NAR) in a press call releasing the results, adding that the surge in activity last year when the COVID-19 lockdowns lifted "was an anomaly."
Also scheduled for release this week is the weekly mortgage application survey and weekly jobless claims survey. If you have any questions about the upcoming market trends, we would be happy to talk. If you would like to compare rates and mortgage scenarios, visit our mortgage calculator page.
Sources: Bloomberg, CNBC, MarketWatch, MBS Highway, Mortgage News Daily, Yahoo Finance