Market Update: Rates Move Higher, Housing Market Index, Housing Starts and Building Permits, and Existing Home Sales
Blog posted On May 17, 2021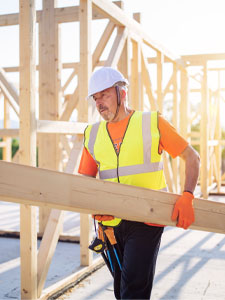 Mortgage rates trended slightly higher last week after hitting a two-month low the week before. The Job Openings and Labor Turnover Survey (JOLTS) revealed a record high number of job openings and the consumer price index (CPI) showed the highest year-over-year increase in 13 years – both strong signs of the economy's continued recovery. When the economy is stronger, rates may trend higher. However, the Federal Reserve is unconcerned by the CPI's high year-over-year inflation jump due to its distorted comparison to last year's pandemic lows. Until inflation is consistently averaging at around 2%, the Fed has said that it will keep the benchmark interest rate near zero.
This week, there are several important housing reports scheduled for release. Today, the housing market sentiment index will be released by the National Association of Home Builders (NAHB). Tomorrow, housing starts and building permits are scheduled for release, and existing home sales will come out on Friday.
The NAHB housing market sentiment index is based on a survey of home builders' perceptions on current sales activity, sales expectations for the next six months, and buyer foot traffic. Any reading above 50 is considered positive. In April, home builder sentiment jumped to 83. Compared to last year, the home builder index has increased by over 100%. The high home buyer demand is keeping builders hopeful; however, it will be interesting to see how the rising cost of lumber will affect this month's reading.
Housing starts track ground broken on residential projects and building permits track permits issued. In March, housing starts surged 19.4%. Building permits increased as well, up 2.7% month-over-month. Year-over-year, housing starts were up by 37% and building permits jumped by over 30%. Single family housing starts were up 15.3% from February's level while single family building permits grew 4.6%. Starts for privately-owned multifamily buildings increased 30% month-over-month. Again, the upcoming report should be able to provide more insight on how the cost of lumber is impacting construction. If starts slow, that could be a sign that lumber prices are making it harder for builders to get the materials they need. If this is the case, then the supply of new homes on the market could take a dip.
Existing home sales or resales track the sales of previously constructed homes and make up approximately 90% of residential real estate transactions. Existing sales dropped in March, down 3.7% month-over-month. However, compared to last year, existing sales are still up by over 12%. Many economists claim that the slowdown was related to February's winter weather, which slowed closings in March.
This week's reports should give insight on how lumber prices and production are affecting the housing industry as a whole. The NAHB has urged congressional leaders to address the issue of rising lumber prices and to provide relief that can help increase production. Right now, the low supply of houses (coupled with high buyer demand) is one of the main factors driving home prices up. However, even with home prices as high as they are, historically low mortgage rates are balancing out the costs of buying a home. In fact, if you purchase a home now, you could end up saving more money than if you wait for sales prices to drop.
Sources:

Census.gov

,

CNBC

, MarketWatch,

MarketWatch,

NAHBNow