Market Update: Rates Trend Higher, Pending Home Sales, Case-Shiller Home Price Index, and Construction Spending Scheduled for Release
Blog posted On August 30, 2021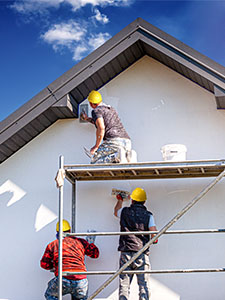 Mortgage rates trended slightly upward in the beginning of last week after some strong home sales reports. Additional rate influencers include falling bond prices and rising yields from the week before. Toward the end of the week, core inflation rose again according to the PCE index and Fed Chair Jerome Powell delivered a speech at the Jackson Hole Economic Symposium. In his speech, Powell noted that 'substantial further progress' has been met for inflation and employment has improved notably as well. Ultimately, he sees the tapering of asset purchases to begin at the end of the year, however there is "much ground to cover" before the Fed raises rates.
This week, there are several important housing reports scheduled for release. On Monday, the pending home sales index comes out, followed by the Case-Shiller home price index on Tuesday and construction spending on Wednesday.
The pending home sales index tracks changes in the number of homes that are under contract but not yet closed. In June, the number of homes under contract fell by 1.9% -- both month-over-month and year-over-year. Pending sales have been up and down since January. The most recent fall is likely related to increasing home prices – driven up by expensive material costs, limited inventory, and high home buyer demand. However, home price gains are expected to level out over the coming months as inventory slowly inches up. In July, the inventory of unsold homes jumped for the fifth consecutive month – up 7.3% to a level of 1.32 million. So, it's possible that the upcoming pending sales report could show an increase.
The S&P Case-Shiller home price index tracks changes in the value of homes involved in two or more sales transactions across 20 major metropolitan areas throughout the country. Though the data lags by a month, it is still used to gauge home price appreciation trends. In May, home prices made record-breaking gains for the second month in a row. The 20-city index saw a yearly gain of 17%, up from 15% the month before. Month-over-month, the 20-city index saw a 1.8% increase. Many economists believe that these prices will cool off in the coming months. Though they will still increase, it should come at a slower pace soon.
The U.S. construction spending report tracks total spending on private and public construction projects. In June, construction spending rose 0.1% month-over-month and 8.2% year-over-year. A large contributor to the increase was residential projects – up 1.1%. Single-family construction spending jumped 1.8% after a small increase of 0.3% in May. Private non-residential construction spending fell 0.7% and spending on public construction projects dropped 1.2%. The high material prices and limited labor supply have been difficult on the construction industry, but home builders are working hard to complete more projects and add more inventory to the housing market.
Other market-moving reports scheduled for release this week include the FHFA home price index, mortgage applications, ADP employment report – coming out on Wednesday – and jobless claims – coming out Thursday. Scheduled for release on Friday is the employment situation – average hourly earnings, average workweek, government payrolls, manufacturing payrolls, nonfarm payrolls, private payrolls, the participation rate, and the unemployment rate.
Though home price appreciation may cool down soon, home values are still near record highs. Higher home prices typically mean larger down payments – but they don't have to mean that. There are several zero down-payment options and down payment assistance programs that we offer, including HomeFundIt™ – a down payment gifting platform that makes it easier for family and friends to contribute to your goal. Down payment assistance programs vary per state, so if you would like to explore the options in your area, let us know!
Sources: CNBC, MBS Highway, Mortgage News Daily, NAR, Reuters, S&P Global