Market Update: Rates Unchanged, Consumer Price Index, Retail Sales Coming Up This Week
Blog posted On September 13, 2021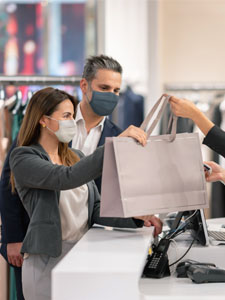 Mortgage rates trended higher toward the beginning of last week and lower toward the end of the week – creating little change in their levels from the week before. A strong 10-year Treasury auction and 30-year bond auction contributed to the rate improvements for many lenders. Treasuries and mortgage-backed securities are both good indicators for mortgage rate trends. Typically, when the prices of mortgage-backed securities rise, mortgage rates fall. When Treasury prices rise, mortgage rates tend to rise as well. Mortgage rates also reacted well to the European Central Bank's announcement that they were reducing their bond buying efforts by a smaller amount than was expected. This week, there are few housing-specific reports, but a couple of important consumer-specific reports that tend to reflect the economy's strength and influence rates.
On Tuesday, we have the consumer price index, which gauges inflation. On Thursday, the retail sales report is scheduled for release.
The consumer price index (CPI) tracks the changes in the average prices of a fixed basket of goods and services sold to final consumers. In July, the CPI rose 0.5% month-over-month. Year-over-year, the index rose 5.4%. This climb matches June's annual level, which was the highest jump since August 2008. Core CPI – which excludes the prices of food and energy – rose 0.3%. This was much lower than June's core CPI level of 0.9%. Core inflation is often considered a more reliable gauge of the country's inflation levels. The Fed has been keeping a close eye on core inflation levels to determine the best time to begin tapering asset purchases and raising the benchmark interest rate. For the past several months, Fed Chair Jerome Powell has claimed that the inflation spikes are transitory and will level out soon.
Retail sales measure total receipts at stores that sell merchandise and related services to final consumers. Retail sales fell 1.1% in July – likely due to rising COVID concerns over the Delta variant. The biggest sales declines came from clothing stores – down 2.6%, and even online stores – down 3.1%. On the other hand, food and beverage sales were up 1.7%. Restaurant sales were up nearly 40% year-over-year. Oftentimes, retail sales are a good indicator of the economy's strength and consumer's confidence. In addition to inflation, the Fed is also keeping a close eye on consumer behavior.
Also scheduled for release this week is the weekly mortgage application survey and the weekly jobless claims survey.
If the economy shows signs of Delta-related setbacks, this could be good news for rate trends. In general, mortgage rates trend lower when the economy is slower – as we saw last year with record-low rates. If you would like to talk more about rate trends and the best time to buy or refinance, contact me today!
Sources: CNBC, CNBC, MarketWatch, Mortgage News Daily, Mortgage News Daily