Market Update: Rates Unchanged, Job Openings Scheduled for Release
Blog posted On June 07, 2021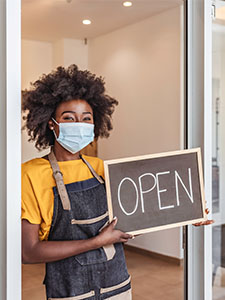 Mortgage rates remained relatively unchanged last week and continued to hover near historic lows. Bond market volatility sent them slightly higher in the middle of the week, but with Friday's employment situation, they trended lower again. Most of the reports in the employment situation were much lower than expected by economists. Consequently, "stock market futures actually rose, with investors continuing to bet that the measured pace of job gains would keep the Federal Reserve from raising interest rates and tightening monetary policy," wrote Jeff Cox, Finance Editor for CNBC. The jobs report was a good check-in with the economy's recovery, which is a key factor for the Fed to raise rates. With the economy's job growth at a slower-than-expected pace, it's unlikely the Fed will raise rates just yet. However, the Labor Department's Job Openings and Labor Turnover Survey (JOLTS) is scheduled for release this Tuesday, which will be another important rate-influencing report.
The Labor Department's Job Openings and Labor Turnover Survey (JOLTS) tracks month-to-month changes in job openings, hirings, and voluntary quits. In March, job openings surged 8% to reach a record high of 8.12 million. The number of job openings increased in numerous industries. The largest increases were in the accommodation and food services (up 185,000), state and local government, and education (up 155,000), and arts, entertainment, and recreation (up 81,000). The increases in all of these industries signify a strengthened economy recovering from the pandemic. Those were some of the harder hit industries when the pandemic began, so to see them with more job openings again shows that people are getting vaccinated, restrictions are being lifted, and the public is feeling more comfortable returning to pre-pandemic norms.
The hiring rate rose 3.7% to a little more than 6 million. Total separations declined slightly to 5.12 million. Within total separations, the quits rate remained unchanged at 2.4% while the layoffs and discharges rate sank to a series low of 1%. Though the surge in job openings should be a positive sign for the workforce, employers are struggling to find enough workers to fill vacant positions, which could slow the upward economic trend we've been seeing. "Labor shortages are widespread, pushing up prices and potentially acting as a brake on the recovery," wrote Michael Pearce, senior U.S. economist at Capital Economics. With a slowdown in economic recovery, interest rates could stay near zero for a longer period of time. The Fed has continued to assert that they are in no rush to raise the benchmark rate and are waiting for the economy to reach certain milestones before they do.
In other market-moving news, the report on consumer credit is scheduled for release later this afternoon and the weekly mortgage application survey will be released Wednesday morning. Weekly jobless claims will be released Thursday morning, followed by the consumer price index.
Last week, the weekly mortgage application survey showed a 5% decrease in refinance application submissions. Homeowners might be less eager to refinance now because rates are slightly higher than they were last year. However, rates are still historically low, and refinancing could save you thousands of dollars.
Sources: Bureau of Labor Statistics, MarketWatch, Mortgage Bankers Association, Mortgage News Daily, Mortgage News Daily