What to Expect When You Close on a Home
Blog posted On October 07, 2021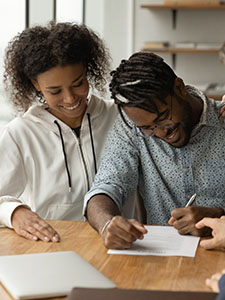 Closing on a home is an exciting start to a new future, and it's a huge accomplishment. If you're about to close on a home of your own – congrats! We're sure you can't wait to move in and start enjoying life as a homeowner. Before you do, there are a few important steps of the closing process left.
Prepare your upfront funds and fees
When you close on your home, you will need to bring with you certified checks for your down payment and closing costs. Though there are ways to roll your closing costs into your loan amount, you will then have to pay interest on them. Closing costs can include:
Origination fee

Underwriting fee

Appraisal fee

Credit report fee

Title report fee
Typically, closing costs are between 2% and 5% of your loan amount. So if you have a loan of $350,000, you will pay between $7,000 and $24,500 in closing costs. Down payments can vary more. In 2020, the average down payment for first time buyers was around 7%. For repeat buyers the average down payment was 16%.
Avoid changing jobs or making large purchases
Anything that could greatly affect your financial situation should be avoided. If you make any last-minute changes before closing on your home like changing jobs, your lender will have to verify your new employer, which could push your closing back further than expected, or lose your loan approval altogether. You should also try to avoid making any large deposits or opening a new line of credit. These will cause your lender or credit card company to review your information again.
Take one final walkthrough of the house
It's common to take one last walkthrough of the house with your real estate agent before you sign the final documents. This can ensure that the house is in order and everything that needed to be fixed or updated got the necessary changes. Once you sign the final closing documents, there's no going back.
Make sure everyone is at closing
Closing requirements vary per state (and sometimes county), but there are certain parties who should be present at closing in almost any state:
Closing agent

Attorney

Title company representative

Home seller

Real estate agent for the seller

Home buyer

Real estate agent for the buyer

Lender
Double check your documents
You will receive a lot of documents at your closing that you will need to double check for accuracy:
Loan estimate

– This will tell you your loan terms, rate and closing costs.

The closing disclosure

– This will also outline details of your mortgage, but you will get it three days prior to closing.

The initial escrow statement

– Outlines any escrow payments that your lender will pay during the first year your mortgage, including taxes and insurance.

Mortgage note

–This states that you will repay your loan and provides an outline of the repercussions if you don't.

Mortgage or deed of trust

– This secures your note and gives your lender a claim against your home.

Certificate of occupancy

– This is only necessary if you are moving into a newly built home.
Sign your paperwork and celebrate!
Once you have insured that all your paperwork is correct, you can start to sign. There are three main documents that you will sign at closing. The first is the deed of trust, the second is your mortgage note, and the third is your closing disclosure.
After you're finished at the closing table, it's time to celebrate! Even after you're finished signing on the dotted line, we are always here to help. If you ever have any questions before during or after closing, let us know.
Sources: Bankrate, NerdWallet