Will Mortgage Rates Continue to Drop?
Blog posted On November 15, 2022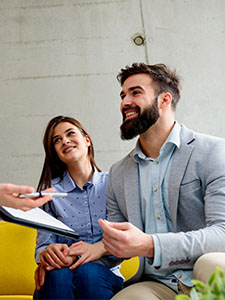 Hope is in the air for home buyers. For several months, many buyers have been holding their breath as mortgage rates have continued climbing higher. Last week they finally got a breather. Following Thursday's release of the consumer price index, mortgage rates saw their biggest single-day tumble in over a decade. The question now is whether rates have peaked or if they trend higher again.
Why did rates fall so much?
A single-day rate drop this drastic isn't typical. But the 2022 market is far from typical. Throughout the year, the market has been battered by several different economic factors including the conflict in Ukraine, Fed rate increases, soaring inflation, and overall economic uncertainty about a recession. Consequently, market volatility has been extreme, with huge day-to-day rate swings and lack of consistency. As the year has progressed, certain factors became standout market influencers. With inflation at 40-year highs, the consumer price index quickly took crown as "king of economic data," writes Matthew Graham of Mortgage News Daily. The Federal Reserve's target annual inflation level is 2%. Over the past year, annual inflation got as high as 9%. Therefore, the Fed's focus has been bringing down inflation levels by raising the benchmark interest rate – also called the federal funds rate or fed funds rate.
While the fed funds rate doesn't dictate mortgage rate levels, it can influence their trends. So, when inflation data has shown up higher than expected, the bond market has braced for higher fed rate hikes. And if you're wondering why the bond market matters, we don't blame you – there are a lot of moving pieces and key players when it comes to interest rate influences. The bond market heavily influences rate trends. The bond market also hates inflation. So when inflation is high, the bond market isn't happy, and rates consequently tend to rise.
The markets have been closely eyeing inflation data to see when the previous fed rate hikes will start to take the desired effect. When the most recent consumer price index report came out, not only did it show cooled inflation levels, but it was surprisingly much lower than what experts had predicted, which made the bond market happy and caused rates to drop.
Mortgage interest rates forecast
What's next? The Fed's benchmark rate decision and trend in rates moving forward will largely depend on the next consumer price index, which is scheduled for Tuesday, December 13, 2022,
at 8:30 a.m. ET. If it continues to show cooling inflation then the Fed may consider slowing its pace of rate increases, hiking the fed funds rate by 0.50% instead of the previous 0.75%.
In the shorter term, comments from Fed members could also influence rate trends. For example, Federal Reserve Governor Christopher Waller commented on Sunday, "The market seemed to get waaaa-aaaay out in front…I just cannot stress this is one data point […] we've still got a ways to go." In other words, the Fed is aware that if it pulls up on the rate hikes too fast, inflation and job creation may ramp back up in the future. It's being very cautious about hinting any decisiveness for the rate hike at the next meeting, likely because it may depend on upcoming jobs and inflation reports.
Overall, there's a lot of uncertainty surrounding the future of mortgage rates. But one thing is almost certain: the more unpleasantly surprised the markets are about economic data or the next Fed rate hike, the worse.
In the meantime, a good decision for buyers would be to lock in rates while they're relatively low (compared to previous weeks). With a one-time float down option, they can even relock to a lower rate if they drop. If you're curious about our rate lock options, let us know.